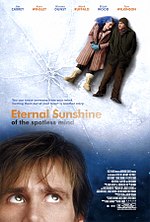 Una puntata coi frizzi, lazzi e cotillons, stasera. Qualcuno l'aveva chiesto, beh, io l'ho trovato. In esclusiva l'intervista con chi ha deciso di fare uscire nei cinema patri Eternal Sunshine of the Spotless Mind con il titolo-che-ben-conosciamo. Sì, avete capito bene, proprio con lui, direttamente dalla Eagle Pictures.
E con me in studio Magenta&Woland.
Che volete di più? Chiedetemelo. Sintonizzatevi questa sera dalle 2230 sui 96.3 o sui 94.7 MHz se siete a Bologna o provincia. Se siete altrove, cliccate qui per lo streaming.
Update. Da oggi e per ogni giovedì la mia trasmissioncina va in onda anche su RadioNation. Ma pensa. Devo subito chiamare mia mamma.
Ariupdate. Se proprio volete, l'intervista è ascoltabile qui.
Ecco l'intervista!